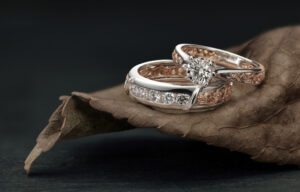 Accent stones are usually added to enhance the sparkle and appeal of diamond jewelry. A lot of people go for engagement rings that come with accent stones because of the enhanced brilliance they exhibit. Accent stones can also make your center diamond look bigger because of the combined sparkle created by them. As these stones are cheaper when compared to bigger diamonds, they can be a wonderful option to add to your diamond rings to make them bigger. Also, you can save a considerable amount on your accent stones by choosing lab grown diamonds instead of natural ones.
If you prefer a ring setting with accent stones, there is a wide array of options you can get including a halo setting, pave setting, etc. There is a large variety of settings used to hold the accent stones to the ring's band. You have to be aware of them to choose a perfect option that can fit your lifestyle. The following are some of the settings used to hold small accent stones on your ring:
Prong Setting
The prong setting is one of the most commonly used settings for holding accent stones. This setting holds the diamonds using small metal prongs. It can the perfect option for you if you want better visibility and brilliance for your stones.
However, the small metal claws that hold the accent stones in place can snag on things including clothing. Therefore, they can be easily bent or broken. This can increase the risk of losing your stones.
Channel Setting
This ring setting features small diamonds arranged between two metal strips that form a channel. Stones with a similar shape and size will be arranged between these metal strips in a row. This setting can offer enhanced protection for your stones, as it does not expose the girdle of your accent diamonds.
However, more surface area of the stone will be covered by this setting and its brilliance can be lower when compared to the prong setting.
The Bezel Setting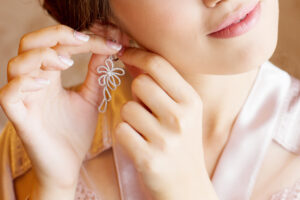 Here, each stone will be covered by a metal lip that secures the diamonds to the band. This setting can offer maximum protection for your diamond thereby extremely reducing the risk of chipping or losing them.
But the brilliance associated with this setting is low when compared to the prong setting. Also, as each stone is surrounded by metal, the amount of metal required for this ring will be more, which can make your ring costly.
You can also consider a flush or bar setting to embed your accent diamonds into the ring's band. But when choosing a setting, it is important to consider your lifestyle to determine whether it can be a practical option for you.