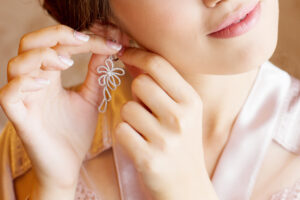 Elevating Elegance: The Power Of Diamond Earrings
Diamond earrings come in a myriad of styles, from delicate studs to extravagant chandelier designs. Depending on the bride's vision for her wedding look, diamond earrings can either provide a touch of subtle elegance or create a captivating and dazzling effect. A pair of simple yet sparkling diamond studs can complement a minimalist wedding dress beautifully, while a more intricate and sparkling design can elevate the glamor of an opulent ball gown.
The right pair of diamond earrings can do wonders in accentuating a bride's facial features. For instance, long drop earrings can elongate the neck and draw attention to the jawline, while teardrop-shaped earrings can soften angular faces. Brides with shorter hairstyles can particularly benefit from the elongating effect of certain earring styles. Ultimately, diamond earrings serve as a frame for the face, enhancing the bride's natural beauty and radiance.
Matching The Dress: Choosing The Perfect Diamond Earrings
When selecting diamond earrings to compliment a wedding dress, it's essential to consider the neckline of the gown. Different necklines call for different earring styles to achieve a harmonious and balanced look. For instance, a strapless or sweetheart neckline pairs beautifully with statement chandelier earrings, as they fill the space between the shoulders and draw attention upwards. On the other hand, a high neckline may call for more understated studs or short drop earrings to avoid overwhelming the look.
Coordinating With The Dress Embellishments
Another aspect to take into account is the embellishments on the wedding dress. If the gown is adorned with intricate beadwork or features elaborate embroidery, opting for simpler diamond earrings can prevent the overall look from becoming too busy. Conversely, if the dress is relatively simple, more elaborate diamond earrings can add that extra touch of sophistication and luxury.
The Timeless Appeal Of Diamond Earrings
One of the reasons why diamond earrings remain a popular choice for brides is their versatility. Regardless of the wedding theme – be it classic, modern, bohemian, or vintage – diamond earrings effortlessly complement and enhance the bridal attire. Their timeless appeal ensures that they never go out of style, making them a reliable and elegant choice for any bride. The influence of diamond earrings on the style of wedding dresses extends beyond the wedding day itself. These precious gems serve as cherished heirlooms that can be passed down through generations. Every time the earrings are worn in the future, they will evoke beautiful memories of the special day, making them not only a stunning accessory but also a sentimental keepsake.