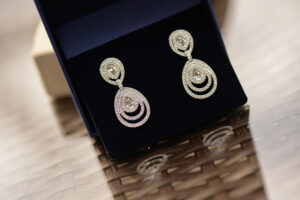 Diamond stud earrings are an elegant choice that you can gift yourself or your loved ones. They come in a variety of styles and designs, hence, it is possible for you to choose from a number of designs that intrigues you.
Diamond earrings are one of the most versatile options that you can choose to wear with every outfit. Also, they are simple yet elegant, which makes them a stunning option to wear on every occasion. Diamond stud earrings will always be in style, hence, you don't have to worry about them going out of fashion.
There are different settings used for diamond stud earrings. The following are some of the best options among them:
Prong Setting
It is the commonly preferred setting in diamond earrings. This setting is loved by people who want better exposure for their diamonds. Additionally, as the prong setting uses only a small amount of metal to cover the stone, it can enhance the brilliance of the diamond. Therefore, by choosing this setting, you can make your diamond earrings shiny.
One of the best benefits of prong setting is that it can suit all diamond shapes. The four-prong setting is one of the commonly found choices that is known for its ability to make the ring shiny along with providing better visibility. On the other hand, a six-prong setting can reduce the stone's visibility, but can enhance its protection. Also, if you choose diamonds with pointed edges, like a princess, marquise, or pear-shaped diamond, then the v-prong setting can be the best option, as it can protect the pointed corners. Even though it is less likely for your earrings to hit or bump somewhere, it is still better to choose the setting wisely to give more protection to your costly stones.
Bezel Setting
If you are worried about losing your stone, then it is better to choose bezel setting which covers the stone from all sides using the metal of the earring. Hence, you don't have to worry about losing or chipping your diamonds.
But this setting can be less brilliant than the prong setting, as it reduces the visibility of the stone.
Halo Setting
This setting can add an enhanced sparkle to your earrings, as it surrounds the center diamond with small accent stones. If you want to add an extravagant look to your diamond earrings, this can be a great option for you.
When choosing diamond earrings, makes sure to consider other factors including the type of metal, your budget, etc. If this piece of jewelry is more costly than your budget, then it is better to go for lab grown diamond earrings that can be more affordable to you.