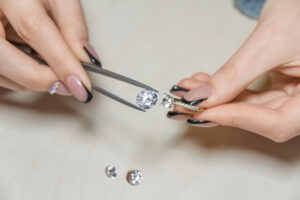 Many people are now opting for lab-grown diamonds over natural diamonds. The optical, physical, and chemical characteristics of these lab-produced stones are identical to those of real diamonds, but they are more reasonably priced and come from ethical sources. In the 1950s, General Electric (GE) made the first lab-grown diamonds. The lab-produced stones are the outcome of decades of investigation by scientists all around the world.
About Lab-Grown Diamonds
About 150 miles beneath the Earth's crust, carbon is squeezed at incredibly high temperatures and pressures and results in the formation of natural diamonds. In laboratories, scientists use a variety of techniques to compress carbon at high temperatures and pressures to cause it to crystallize in order to create synthetic diamonds or lab-grown diamonds. Other than the origin, there is no significant difference between a natural and lab-grown diamond.
Creation Of The First Lab-Grown Diamond
In 1797, scientists found that diamonds are made entirely of carbon atoms. In the 19th century, many scientists tried to mimic the natural diamond growing process in a lab facility. Despite numerous claims of success, scientists were unable to repeat these tests.
In 1954, a company called General Electric (GM) made lab-grown diamonds and this is recorded as the first proven lab-created diamonds. The codename of the project was "Project Superpressure" and this project started in the 1940s. The project was delayed because of the Second World War. The scientists subjected small diamond seeds to a pressure of 100,000 atmospheres and a temperature of 1600°C. They melted graphite in these extreme conditions and the carbon atoms from the graphite formed a diamond around the diamond seeds. Metals like cobalt, nickel, and iron were used to speed up the diamond formation.
Problems Of Lab-Grown Diamonds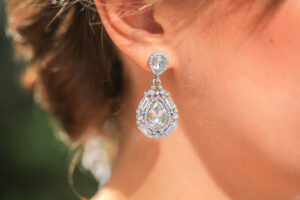 Anyhow, the diamonds made by GM were too small and couldn't be used as a gem. Gem-quality diamonds were made by the same company in 1971. It was a marvelous discovery, but the expense of making diamonds in a lab was very high and the diamonds thus produced had poor clarity. The lab-grown diamonds had many inclusions and in addition to that, they had a yellowish shade. Scientists discovered that the yellow color is mainly due to the presence of nitrogen and further adjustments were made to reduce the color.
Modern technologies can grow diamonds of the highest clarity grades and other quality parameters. For ethical and financial reasons many are turning to lab-grown diamonds for their engagement rings.