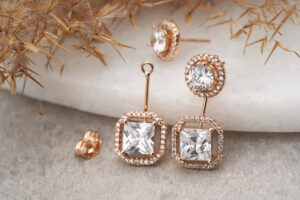 Although diamonds are among the most powerful and long-lasting materials known to man, they do require regular maintenance in order to remain as dazzling and beautiful as possible. To be truthful, looking down at your finger and seeing a sparkling diamond ring is one of the nicest emotions in the world.
Whether it is a loose diamond or already placed in a ring, you'll need to polish a lab-grown diamond. You can keep your diamond in tip-top shape by following a few basic maintenance guidelines and learning about storage and accident prevention.
Cleaning Lab-Grown Diamonds At Home
Since lab diamonds and natural diamonds both share the same characteristics, cleaning a lab-grown diamond is extremely similar to cleaning an Earth-formed diamond. If you see any fuzz or little hairs stuck between the prongs, try removing them with tweezers or a can of compressed air.
To clean the diamond, start by wiping away any dust or small quantities of dirt with a soft cloth. Cleaning your loose diamond or jewelry at home is as simple as wiping it down with a mix of cleaner and water. According to the GIA, the oil, grime, and debris can be removed with a soft cloth or a toothbrush. While some individuals prefer to clean their jewelry using a jewelry cleaning solution, a small amount of mild soap should be enough.
Let's take a look at some easy tips for cleaning lab-grown diamonds at your home.
Don't Touch Your Lab Diamonds Directly
Avoid making physical contact with your lab-grown diamond. Although it may be tempting to play with your diamond ring or jewelry, diamonds naturally collect a lot of grease and oils, so use caution when handling lab-grown diamonds.
Use Soap Solution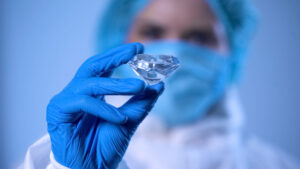 Based on how often you are wearing it, soaking your lab diamond in a bowl of warm water or a few drops of light dish soap approximately once a week is the simplest way to clean your lab diamond ring. Alternatively, soak for 2 hours in a mixture of 12 cups white vinegar and 2 tbsp baking soda. After removing your jewelry, gently wipe any remaining oil or dirt that may have been lodged in any hard-to-reach areas using a gentle toothbrush.
Don't Use Harsh Chemicals
Despite the fact that lab-grown diamonds are extremely durable, ordinary corrosive substances such as bleach or other cleaning agents can destroy the gold alloys, and other harsh chemicals can scrape or discolor gold and other metals.