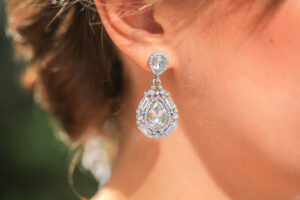 Lab-grown diamonds are becoming a common pick for engagement rings among millennials these days, and it's easy to see why that is. They're just as stunning and eye-catching as their natural-made equivalents. In addition to being available in every shape and design, lab-grown diamond engagement rings are cheaper when compared to an engagement ring made from natural diamonds.
Lab-grown diamonds are made in labs with high-tech machinery that simulates the pressure and high temperatures that are required to produce natural diamonds. A lab diamond, unlike natural diamonds, appears to take only a few days to a few weeks to form. Many direct-to-consumer retailers have a large selection of lab-grown diamond rings that you can design and order online, making it much easier to find the ring of your dreams.
Here is the list of some of the best lab-grown diamond rings for couples who are very conscious about the environment.
Brilliant Earth's Yellow Gold Secret Halo Engagement Rings Of 18K
When talking about this stunning ring made by Brilliant Earth, the devil is in the details. Although this style appears to be simple and classic at first glance, it conceals a halo of lab-grown diamonds set underneath the center diamond. This unique feature ensures that your ring captures the light from every slant.
12Fifteen Diamonds Duet Halo Radiant Cut Engagement Ring
The diamond ring has a radiant-cut halo design, which has an accented split band style for a distinctive and surprising appearance. This engagement ring will appeal to your luxurious tastes if you don't shy away from bling. Every diamond cut, from Asscher to Marquise, can be accommodated in this design.
Tapered Baguette Diamond Engagement Ring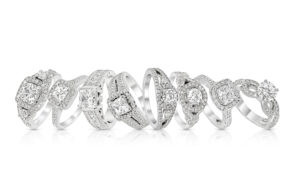 This three-stone diamond ring that has a center diamond with a round cut looks like a valuable ornament and has a unique one-of-a-kind feel to it if you're looking for a diamond engagement ring with some antique look. This is a beautiful piece for the romantic bride.
Innocent Stone Eternity Band
This wedding band was created with the unflashy bride in mind. It's delicate and has a subtle bohemian feel to it. We can't help but think this jewelry piece is partnered with a gentle, barely-there engagement ring.
Clean Origin Opera Ring
If you don't want to wear a conventional engagement ring, consider a bypass band design. The swirling style of the ring not only adds movement to your ring but also draws attention to your center diamond. For a smooth and perfectly polished appearance, finish your set with a perfectly matched bypass wedding band.