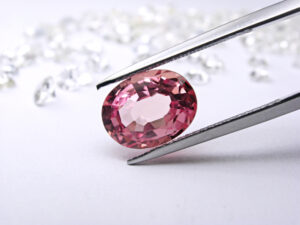 Composite diamonds are the preferred design for those who want large center diamonds on their engagement rings but don't want to break the bank. Cluster diamond designs made up of composite diamonds can be set beautifully in any ring or band to make unique engagement rings.
Set To Shine
Composite diamonds are artistically and meticulously assembled to give the appearance of a single large diamond. The arrangement typically has an unrivaled sparkle and eye-catching appearance that many brides-to-be prefer. The stones are arranged to enhance their beauty and sparkle. They are sometimes glued together to form a large stone with barely visible joints. Such stones, created by joining two or three smaller stones, are then set in a design intended for a large single stone. In diamond rings, doublets or triplets arranged in this manner mimic the appearance of a large stone set as a center stone offering very good brilliance and bling.
The Positives and Negatives
The main appeal of composite diamonds is their low cost. They have the appearance of a large diamond but are less expensive. The cluster designs are one-of-a-kind, and they provide many options for settings and intricate details to be added to create aesthetically pleasing designs that stand out. Before investing a significant amount of money in a piece of jewelry containing cluster diamonds, consider the drawbacks of composite diamonds.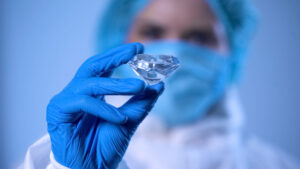 While cluster diamond designs are less expensive than traditional larger stone settings, their resale value is nowhere near that of solitaire or other larger stones. The cost and difficulty of repairing cluster designs outweigh the benefits. If one of the cluster's small diamonds is lost, it may be difficult to find a piece that exactly fits the lost stone's position in the design. The same is true when one of the stones glued together to make a larger stone is lost. You could end up spending a lot of money on a matching diamond as well as on repair costs.
Composite diamonds are an excellent choice for diamond rings because they provide an excellent balance of class and cost in the majority of designs. The cost-effectiveness of composite diamonds is relevant during purchase rather than resale; therefore, they should not be regarded as excellent investments. If you have plans to sell the diamond ring in the future, composite diamonds might not be a good choice.